Principal Investigator: Marlene Kliman
Funders: The Heising-Simons Foundation
Other current TERC staff: Valerie Martin, Nuria Jaumot-Pascual, Audrey Martínez-Gudapakkam

Dates: 2016–2021
Storytelling Math is centered on two interrelated goals: 
Expand the mathematical content in trade storybooks for ages 0–5 to include often-overlooked topics that are critical to building mathematical understanding, including patterns, spatial relationships, measurement, and sorting;  
Expand images and contexts of characters in such books, to reflect families from traditionally under-represented groups and give all readers an inclusive vision of mathematical thinkers.
We address our goals primarily through shaping the math component of picture books in conjunction with two publishers:
Charlesbridge, publishing the Math for Me series (English, Spanish)
Four board books for ages 0-2 (Grace Lin, 2020, varied math topics)
Eight picture books for ages 3-5 (various authors, 2020 and 2021, varied math topics)
Star Bright Books, publishing Small Talk math board books (English and Spanish, with some titles also in Chinese, Vietnamese, and Hindi)
Banana for Two (Ellen Mayer, 2018—one-to-one correspondence)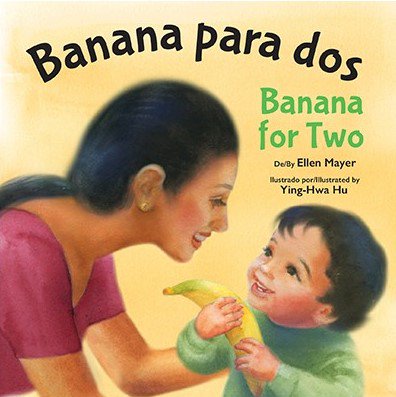 Clean Up Up Up! (Ellen Mayer, 2018—spatial relationships)
Yellow, Red, Green — GO! (Ellen Mayer, 2020—patterns, tentative title)
Check back for more info.
Other Storytelling Math efforts include: holding webinars and workshops on diversity and math in picture books for authors, librarians, book reviewers, and other stakeholders; and gathering data on impact of Storytelling Math books distributed via Reach Out and Read and Too Small to Fail. 
With anticipated substantial commercial sales, conducted in conjunction with Charlesbridge's distribution partner Penguin Random House, we anticipate that this project will help to re-shape national conceptions of what constitutes math for ages 0-5, who can do math, and ways in which parents and caregivers can organically support children's math learning as part of story reading at home. 
Clean Up, Up, Up! by Ellen Mayer | illustrated by

Ying-Hwa Hu




Star Bright Books, 2018, available in English and Spanish